Server Admin
Server Admin
TOGA Member
Feb 2, 2014
912
299
73
46
Thursday my 3080 finally arrived.
As you can see on the picture below, the new card is way bigger than my old one.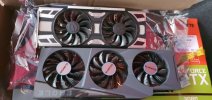 And it did not fit as the radiator and fans of my watercooler was in the way. And the radiator did not fit on the top. But I wanted to try my new card. So I came up wit this: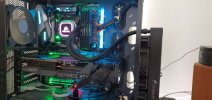 At least now I could try the new card, but I needed a new case. Which got delivered yesterday (Friday).
So here is how the pc looks now


And I can say, I am really happy with the results and also how the new card is performing.
FYI, playing warzone on 1440p with 144 fps and it's also capped to 144
Before I was playing warzone on 1440p with 80 fps.